Be a HopeLION
The Office of Student Advocacy and Accountability has joined Verizon Wireless to bring to our campus a unique event...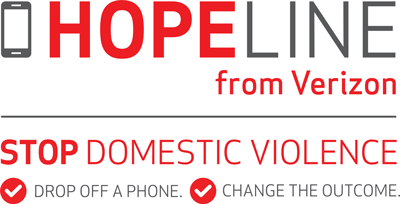 In support of October- Domestic Violence Awareness Month
Student Advocacy and Accountability is promoting a cell phone drive from
October 1st and ends October 31st.
Hopeline Purpose
Hopeline is an initiative that collects unwanted or outdated/used cell phones for donation, and turns them into a method of support for those who are victims of dating or domestic violence.
Verizon donates wireless phones, complete with voice and text capabilities, to local domestic violence shelters and non-profit organizations and agencies for use by victims and survivors. These phones serve as a vital link to support services and provide a safe line of communication to family, loved ones and employers.
Hopeline is also an environmentally friendly initiative, as all unused phones, from any service provider, are refurbished and recycled underneath of the zero-landfill policy. Since 2001, this initiative has been responsible for recycling 1.7 million unused phones and prevented 260 tons of electronic waste from entering our landfills nationwide.
How can I help? Donate a Cellphone and get a free t-shirt
You can donate a phone by following these five easy steps.
STEP 1

:
Erase any data from the phone and disconnect the phone's service with your wireless provider.

STEP 2

:
Remove any storage cards and SIM cards from the phone.

STEP 3

:
Power off the phone.

STEP 4

:
Place your wireless phone from any service provider along with the battery, charger and any accessories you wish to donate in a plastic bag.

STEP 5:

Drop your wireless phone and accessories in a HopeLine bin at the Office of Student Advocacy and Accountability, Student Union, Room 1305.
Make a difference in someone's life today!
For more information about the HopeLine campaign, please visit
http://www.verizon.com/about/responsibility/hopeline